News & Press
River Edge Behavioral Health Launches New Logo and Community-Based Brand Identity
Contact: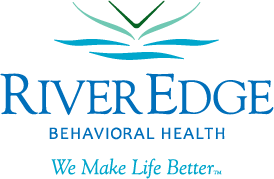 Jessica Walden, Media Relations: 478.361.6998 // jlw@jessicalanierwalden.com
Jamie Dickson, River Edge Communications: 478.283.0138 // jdickson@river-edge.org
MACON – For the first time in seven years, River Edge Behavioral Health will unveil a new logo and brand identity tomorrow, June 27, as part of its Employee Appreciation Day at the River Edge Recovery Center, 3575 Fulton Mill Road, in Macon.
The official unveil will take place at noon by debuting the new River Edge Recovery Center sign.
The re-branded look is part of River Edge's focus to convey hope for the communities it serves and de-stigmatize the need for mental health treatment and support.
River Edge's current logo, featuring a green archway, was introduced in 2010. The new logo, which was selected based on staff and board feedback, reflects a lotus-like design, based on a river, and brighter color palette. The logo was designed locally by Burt + Burt.
John Kosater, River Edge's Supported Employment Program Director, has been with the organization for nearly 32 years. "I enjoy working at River Edge because I have a chance to make a difference each and every day," he said. "After wearing the green for so long, I think it's time for a change, and I'm looking forward to the unveiling."
Employee Appreciation events are held annually at four central River Edge locations. The organization employs more than 700 people in more than 50 locations across Central Georgia, which makes it one of Central Georgia's largest employers. In 2015, River Edge's economic impact in Central Georgia was $119 million.
"I am delighted to unveil our new logo as part of our employee appreciation festivities," said River Edge CEO Shannon Terrell Gordon. "This beautiful design is part of our ongoing action to stay fresh and current and to convey hope and light in our communities. We thank our visionary board and dedicated staff for their contributions to our new look and their passion to make life better for thousands of Georgians."
About River Edge Behavioral Health
The full continuum of River Edge Behavioral Health services provide state-of-the-art treatment and support services for more than 13,000 children, youth, families and adults who experience mental illness, addiction, co-occurring disorders or developmental disabilities annually. River Edge services extend throughout Central Georgia, including Baldwin, Bibb, Crawford, Houston, Jones, Monroe, Peach, Putnam, Twiggs and Wilkinson counties. Learn more at River-Edge.org. For help, call 478-803-7700.