News & Press
River Edge Supports Christmas Gala for Individuals with Developmental Disabilities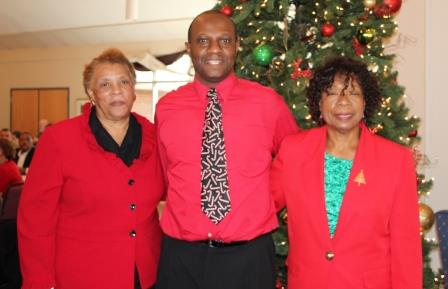 River Edge Behavioral Health Center Developmental Disabilities Services supported a 2nd annual Christmas Gala Thursday, December 4 for individuals in their program and their families and staff. The event featured seasonal entertainment from the Central High School (Bibb County) Fine Arts Program and a visit from Santa Claus. The luncheon party was held from 10 a.m. to 2 p.m. at the Hephzibah Children's Home.

"This was a wonderful opportunity to share the holiday with the individuals we serve," said Greta O'Dell, director of Developmental Disabilities Services at River Edge. O'Dell explained, "This event was planned by our Inspirational Leaders advisory council, which consists of individuals from different Developmental Disabilities services. This council plans numerous events throughout the year. This year they have also planned to be in the [Middle Georgia] Christmas Parade."

More than 250 guests attended the festivities, including over 100 individuals River Edge's supports in both Options day services and residential programs.

O'Dell said River Edge supports events like this because "It is River Edge's mission for individuals to be served in the most integrated environment and participate (not just attend) in community activities. River Edge looks at the different abilities each individual has, instead of the developmental disability."

River Edge has locations in four counties—Bibb, Jones, Monroe and Twiggs—to serve Central Georgians with developmental disabilities, including programs for seniors and residential care options. Staff strive to create customized care plans for each client to ensure the fullest possible participation in recreational, volunteer and even employment activities.