News & Press
Veteran Psychologist Steven E. Corkery Joins River Edge Board
MACON – Longtime School Psychologist Steven E. Corkery, Ph.D., has joined the board of directors of River Edge Behavioral Health Center. He fills the unexpired term of Eric Manson who resigned earlier this year. The Bibb County Commission voted to appoint Dr. Corkery as one of the members on the River Edge Board in November. His initial term will expire on June 30, 2014.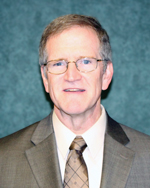 "We are so pleased to welcome Dr. Corkery to our board," said Shannon Terrell Harvey, CEO of River Edge. "He comes with the highest recommendation of board member Mr. Andrew Galloway and his strong background in child and adolescent psychology will be a great asset to the board."
Dr. Corkery serves as the lead psychologist for the Bibb County School District, a position he has held since 1999. Prior to that leadership role, he was a school psychologist in Bibb County for 17 years and for a year in Greene County Schools.
Active in professional organizations as well, Dr. Corkery has served in numerous leadership positions in the Georgia Association of School Psychologists, including as president. He is currently chair of the Professional Competency Area. He was named the 1997 Georgia School Psychologist of the Year by the Georgia Association of School Psychologists.
Dr. Corkery is also active in the community, serving on the boards of First Choice Primary Care and United Way of Central Georgia and as board chairman of Theatre Macon. He serves as a volunteer for many organizations, including the Georgia Special Olympics, St. Vincent DePaul Society, Daybreak and Boy Scout Troop 170. He was named Male Volunteer of the Year in 1996 by the Georgia Special Olympics.
Dr. Corkery earned his Ph.D. in educational psychology and his Master of Education in school psychometry from the University of Georgia and his bachelor's degree from St. Meinrad College.
About River Edge
River Edge has provided comprehensive mental health, addictive disease, and developmental disabilities services and supports in Central Georgia since 1950. Through multiple locations, River Edge currently serves more than 12,000 youth and adult residents of Bibb, Baldwin, Jones, Monroe, Putnam, Twiggs, Wilkinson and surrounding counties annually. With special expertise to assist individuals with intensive support needs, River Edge empowers, encourages recovery and strengthens resilience. River Edge accepts Medicaid, Medicare, most private insurance and offers a sliding scale fee for individuals without insurance. River-Edge.org
mvanderhoek@river-edge.org