News & Press
New River Edge Development in Baldwin Progressing Quickly
MILLEDGEVILLE – River Edge Behavioral Health Center's first permanent housing development in Baldwin County, River Shoals, is progressing quickly. The 5.5 acre development is funded by more $1.2 million in grants from the federal Department of Housing and Urban Development. River Shoals will include 12 units of permanent housing for those recovering from addiction or mental illness.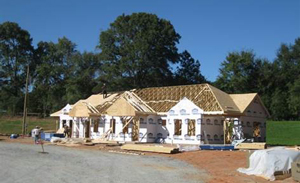 "We're very excited to be bringing the project to Baldwin County and can't wait to tour the progress," said Shannon Terrell Harvey, CEO of River Edge. "At River Edge, we believe that treatment is effective and recovery is to be expected. Having permanent housing is key to recovery and these homes will provide a cornerstone for the individuals who live there to rebuild their lives."
River Shoals is a three-building, 12-unit complex of affordable sustainable housing for individuals at risk of or experiencing homelessness and who have special needs. HUD awarded the $1.2 million Section 811 Capital Advancement Grant to build the homes last year. The grant program also includes three years of rental subsidies for the residents, which can be renewed for an additional three years.
Cook Brothers Inc. is the general contractor on the project, and so far has employed 98 people from Georgia-based contractors during the construction.
About River Edge
River Edge has provided comprehensive mental health, addictive disease, and developmental disabilities services and supports in Central Georgia since 1950. Through multiple locations, River Edge currently serves more than 12,000 youth and adult residents of Bibb, Baldwin, Jones, Monroe, Putnam, Twiggs, Wilkinson and surrounding counties annually. With special expertise to assist individuals with intensive support needs, River Edge empowers, encourages recovery and strengthens resilience. River Edge accepts Medicaid, Medicare, most private insurance and offers a sliding scale fee for individuals without insurance. River-Edge.org
-- 30 --