News & Press
DBHDD Commissioner Tours River Edge Sites in Bibb
MACON — The Commissioner of the Georgia Department of Behavioral Health and Developmental Disabilities (DBHDD), Frank W. Berry, III, toured several River Edge Behavioral Health Center service locations in Bibb County Thursday afternoon with members of his staff.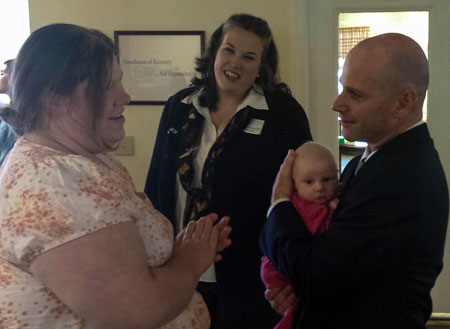 Berry (on the right in photo at right) was appointed by Governor Deal in August 2012. He is visiting service providers around the state to thank staff for their hard work on behalf of clients and the state. Berry toured River Edge's Emery Highway headquarters, a home for individuals with developmental disabilities and LifeSPRING, the gender-specific outpatient and residential location for women seeking recovery from addictions. He met with staff and clients throughout the visit.
"We came here today to recognize the great work River Edge and its staff are doing to help the community," Berry said. "You all are a great partner and are helping us to meet the needs of Georgians – including our settlement agreement services – and assist us in making available lives of recovery and independence in the community for citizens."
After River Edge Chief Executive Officer Shannon Terrell Harvey reviewed the broad range of services offered by River Edge across central Georgia, Commissioner Berry told River Edge managers, "River Edge is one of the foremost leaders in the state in finding creative ways to serve people."
When speaking with several individuals in successful recovery after spending years in Central State, Commissioner Berry said, "You prove that community services work."
Commissioner Berry then toured a home nestled in an upscale Bibb neighborhood where three men with developmental disabilities receive residential supports. He praised the beautiful house and grounds, and he conversed with residents and staff, praising the direct support professionals for the compassion, dignity and professionalism he observed.
As he toured LifeSPRING, Commissioner Berry shared his experiences in working with children in his early career. He offered in encouragement to the mothers, even holding a two-month-old baby residing at LifeSPRING with her mother, born healthy and drug free after her mother began treatment.
Commissioner Berry also met another woman with eight months of recovery whose 7-month-old daughter was born healthy and drug free after her admission to LifeSPRING. When the woman stated, "This place saved my life," Commissioner Berry responded, "Though having services like this certainly helped you, you did the work to save your life. You should be very proud of yourself."
At the conclusion of his tour, Berry again praised River Edge, its clients and staff for their work.
"What a great afternoon, this just reinforces all of the great work that's being done," Berry said. "The clients that I met with, they are getting great care. That's the most important thing."
Added Harvey: "We are honored Commissioner Berry was able to fit in an extended visit into his busy schedule. River Edge has a history of excellent partnership with DBHDD to deliver state-of-the art behavioral health services and supports for Georgians, and we are grateful for his recognition today. Our staff and clients were honored by his encouragement, and we thank him for a wonderful visit."
DBHDD is the state agency that focuses solely on policies, programs, and services for people with mental illness, substance use disorders and developmental disabilities. The department's mission is to help the people it serves live a life of recovery and independence.
About River Edge
River Edge has provided comprehensive mental health, addictive disease, and developmental disabilities services and supports in Central Georgia since 1950. Through multiple locations, River Edge currently serves more than 12,000 youth and adult residents of Bibb, Baldwin, Jones, Monroe, Putnam, Twiggs, Wilkinson and surrounding counties annually. With special expertise to assist individuals with intensive support needs, River Edge empowers, encourages recovery and strengthens resilience. River Edge accepts Medicaid, Medicare, most private insurance and offers a sliding scale fee for individuals without insurance. River-Edge.org