News & Press
River Edge Celebrates National Recovery Month with Events in Baldwin County
MILLEDGEVILLE — September is National Recovery Month and River Edge Behavioral Health Center is celebrating throughout the month. The events will conclude with a Family and Friends Rally for Recovery on Friday, Sept. 27, 4 to 7 p.m. at River Edge Baldwin, located on Blandy Way off Georgia Highway 22. The Rally is free and the public is welcome and encouraged to attend.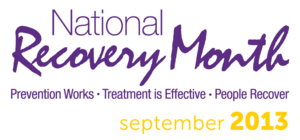 "The theme of National Recovery Month this year is 'prevention works, treatment is effective and people recover,' and we couldn't agree more! At River Edge, our guiding principle is: treatment is effective and recovery is to be expected," said Shannon Terrell Harvey, River Edge's Chief Executive Officer. "We are so glad to be sharing that message this month with the communities we serve in Central Georgia. Together we make life better."
Milledgeville Mayor Richard Bentley will kick off the celebrations with a proclamation signing ceremony on Tuesday, Sept. 10, at 10:15 a.m. in City Hall. The month's celebrations conclude with the Family and Friends Rally for Recovery on Sept. 27 featuring a recovery walk at 4 p.m., speakers from the recovery community and individuals who are in recovery, who will share their message of hope. This community event will include a free cook out provided by Frontline Men's Ministry, featuring hamburgers and hot dogs, as well as other fun food and activities for children. The Rally also includes a health resource fair, free health screenings, Z97 FM will provide a DJ and broadcast live from the event.
The event is sponsored by the Georgia Council on Substance Abuse, through a contract from the Department of Behavioral Health and Developmental Disabilities, which is supporting local community Recovery Month events under the theme, "Together on Pathways to Wellness," with organizations who have demonstrated strong collaborative efforts with a broad reach. There are events throughout Georgia in the month of September as part of the campaign.
The 2013 Recovery Month observance emphasizes the many ways that people can address behavioral health issues, seek treatment and sustain recovery as part of a commitment to living a mentally, physically, emotionally and spiritually healthy life.
About Recovery Month
Recovery Month now in its 24th year, highlights individuals who have reclaimed their lives and are living happy and healthy in long-term recovery. Recovery Month also honors the prevention, treatment, and recovery service providers who make recovery possible. Recovery Month promotes the message that recovery in all its forms is possible. It also encourages citizens to take action to help expand and improve the availability of effective prevention, treatment, and recovery services for those in need. There are millions of Americans whose lives have been transformed through recovery. These successes often go unnoticed by the broader population. Recovery Month provides a vehicle to celebrate these accomplishments. RecoveryMonth.org
About River Edge
River Edge has provided comprehensive mental health, addictive disease, and developmental disabilities services and supports in Central Georgia since 1950. Through multiple locations, River Edge currently serves more than 12,000 youth and adult residents of Bibb, Baldwin, Jones, Monroe, Putnam, Twiggs, Wilkinson and surrounding counties annually. With special expertise to assist individuals with intensive support needs, River Edge empowers, encourages recovery and strengthens resilience. River Edge accepts Medicaid, Medicare, most private insurance and offers a sliding scale fee for individuals without insurance. River-Edge.org
Event Contact: (478) 451-2700
Media Contact: Mark Vanderhoek (478) 803-7800 or mvanderhoek@river-edge.org