News & Press
River Edge, City of Macon to Unveil New Housing Developments
MACON – River Edge Behavioral Health Center will unveil Second and Third Neighborhood, two new housing developments in the Fort Hill neighborhood on Wednesday, Aug. 28, at 2 p.m. The partnership between River Edge and the City of Macon has transformed a formerly blighted and nearly abandoned block of the community. The event will begin in Second Neighborhood at 637 Bowman St.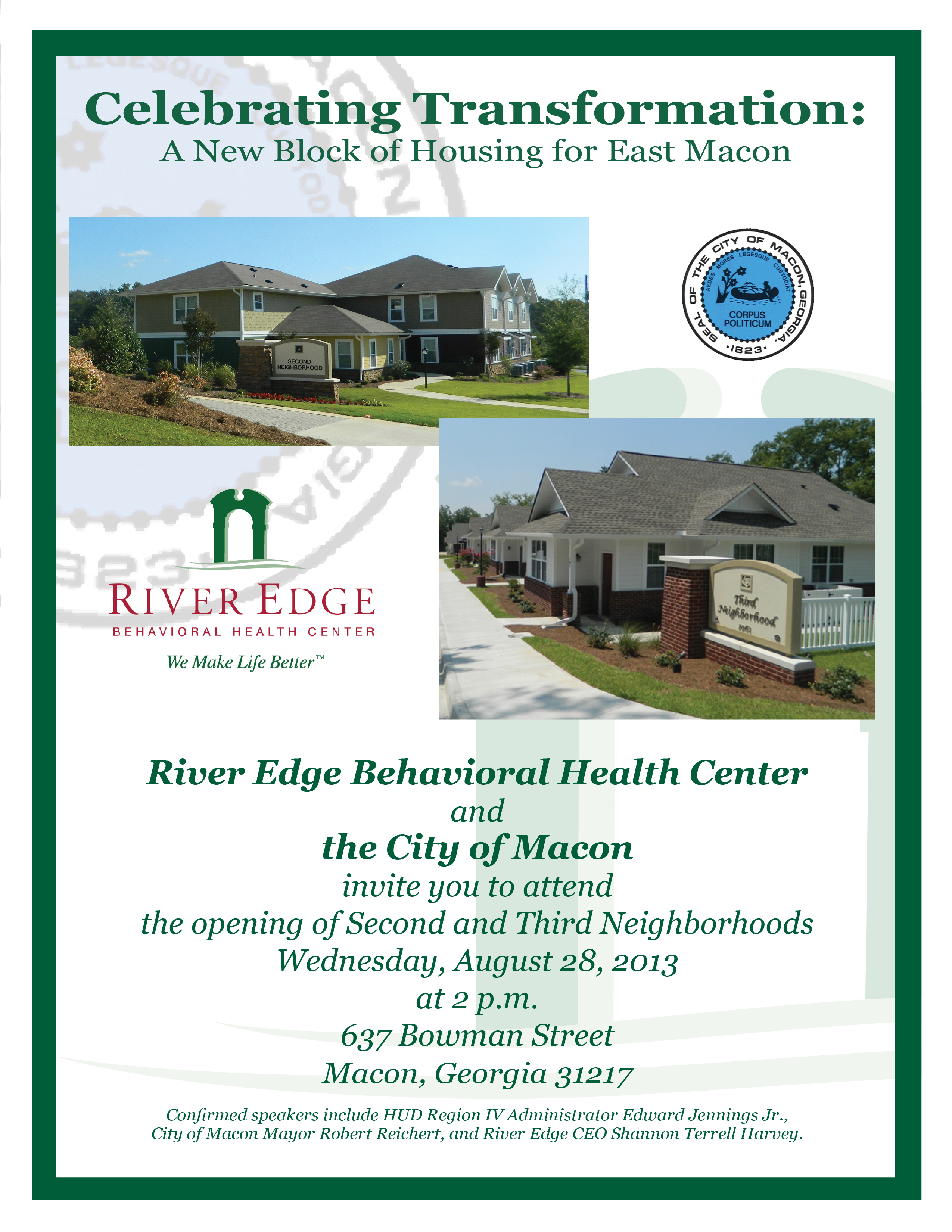 "We will be celebrating the transformation of a neighborhood," said Shannon Harvey, River Edge Chief Executive Officer. "These two new housing developments, along with First Neighborhood, have transformed a blighted block into a beautiful, stable community where formerly homeless individuals now live. Work to create affordable housing options is important to River Edge because one in four homeless individuals has mental illness. With the right treatment and supports, recovery can be expected. Affordable housing is a needed support."
This work caps a three-year and $4.9 million revitalization and redevelopment effort in Fort Hill that created 38 new units of affordable housing and more than 100 construction jobs.
"By working closely with partners like River Edge and focusing on making improvements block to block and neighborhood to neighborhood, we are having a significant and sustainable impact on our entire community," said Macon Mayor Robert Reichert.
Second Neighborhood is a 10-unit complex of affordable housing for individuals at risk of or experiencing homelessness and who have special needs. The United States Department of Housing and Urban Development awarded a $1.1 million Section 811 Capital Advancement Grant to build the homes.
Third Neighborhood, a mixed income development, is a 10-unit complex built with $1.5 million Neighborhood Stabilization Program 3 funds made available to the City of Macon. The City selected River Edge as the project developer, given the River Edge track record of success.
Second and Third Neighborhood are built around River Edge's initial development, First Neighborhood, which includes 18 units of Permanent Supportive Housing built with $2.3 million Neighborhood Stabilization Program 1 funds awarded by the Georgia Department of Community Affairs.
About River Edge
River Edge has provided comprehensive mental health, addictive disease, and developmental disabilities services and supports in Central Georgia since 1950. Through multiple locations, River Edge currently serves more than 12,000 youth and adult residents of Bibb, Baldwin, Jones, Monroe, Putnam, Twiggs, Wilkinson and surrounding counties annually. With special expertise to assist individuals with intensive support needs, River Edge empowers, encourages recovery and strengthens resilience. River Edge accepts Medicaid, Medicare, most private insurance and offers a sliding scale fee for individuals without insurance. River-Edge.org
-- 30 --