News & Press
Financial Professional Eric Manson Joins River Edge Board
MACON – Financial advisor Eric Manson has joined the board of directors of River Edge Behavioral Health Center and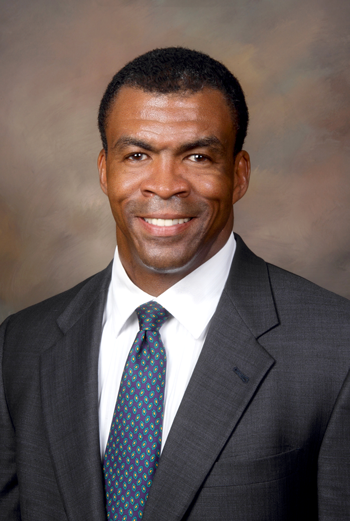 its nonprofit affiliate Georgia Behavioral Health Services. He fills the unexpired term of William E. Willingham Jr. who resigned his seat for health reasons. The Bibb County Commission voted to appoint Manson to represent Bibb County on the River Edge board in June. His initial term will expire on June 30, 2014.

"We are so pleased to welcome Mr. Manson to our board," said Shannon Terrell Harvey, CEO of River Edge. "He comes with the highest recommendations of Mr. Andy Galloway and Mr. Lonzy Edwards. His business training and experience will be a great asset to the board."

As a financial advisor for Merrill Lynch in Macon, his clients include business owners, retirees, and professional athletes and as well as employed men, women and their families.

Manson is a native Maconite, and attended The Citadel on a full football scholarship, earning a Bachelor of Science in Business Administration in 1984. After graduation he worked as a staff accountant before serving four years in the Army. Desiring to help people with his business training, Manson moved to pharmaceutical sales. He worked in sales roles for a number of pharma companies from 1992-2005. From 2005 to 2009, he developed the Office of Diversity and Inclusion at InVentiv Health before joining

Merrill Lynch in 2009.



Manson is a member of the Middle Georgia Boys and Girls Club Advisory Council, the Middle Georgia State College Board of Trustees and the Macon Promise Neighborhoods Advisory Council. He is also a 4th degree black belt and instructor in Tae Kwon Do with the Hae San Martial Arts Association. Manson and his wife, Audrey, live in Macon with their two children Chrisjanea, 22, and Eric II, 11.
About River Edge
As one of the leading behavioral health providers in Georgia, River Edge Behavioral Health Center has provided comprehensive mental health, addictive disease, and developmental disabilities services for the past 63 years in Central Georgia. Through its multiple locations, River Edge annually provides services to more than 12,000 child, adolescent and adult residents of Bibb, Baldwin, Jones, Monroe, Putnam, Twiggs, Wilkinson and surrounding counties. River Edge has special expertise serving people who have intensive support needs. Our mission is to be the leader in behavioral health care providing comprehensive services with dedication and pride. Here at River Edge, we strive to empower children, youth, families and adults, by encouraging recovery and strengthening resiliency. We accept Medicaid, Medicare, most private insurance and offer a sliding scale fee for individuals without insurance. River-Edge.org