News & Press
River Edge and the Men's Wearhouse National Suit Drive Partner to Support Local Job Seekers
Professional clothing drive helps Central Georgia's disadvantaged workers regain confidence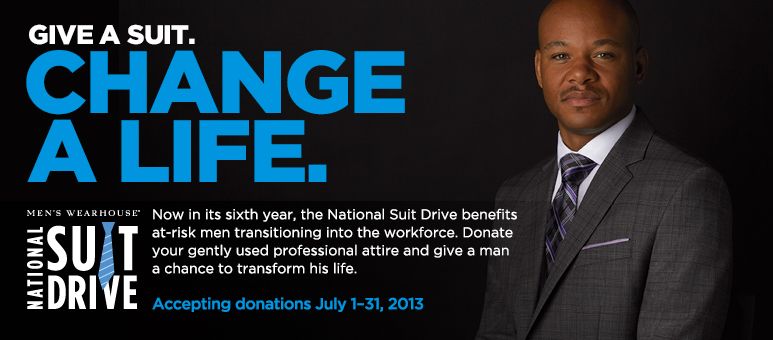 MACON — This month, River Edge Behavioral Health Center's nonprofit arm, Georgia Behavioral Health Services doing business as The River Edge Foundation, is partnering with Men's Wearhouse for the sixth annual National Suit Drive, the nation's largest collection of gently used business attire for men. Together, they are encouraging residents in the Central Georgia community to donate their gently used business attire to help give a fresh start to still-unemployed individuals seeking employment.
This is the first year that River Edge has participated in the National Suit Drive. River Edge, and more than 150 other nonprofit organizations across the country, will distribute the items collected at the local Men's Wearhouse locations. Items being collected include men's and women's suits, shirts, jackets, ties, belts, and shoes. Residents of Central Georgia may donate their gently used items now through July 31 at the two Men's Wearhouse stores in Macon – at 3661 Eisenhower Parkway, Suite 80, in the Macon Mall and 5080 Riverside Drive, Suite 322, in the Shoppes at River Crossing.
"We are thrilled to partner with Men's Wearhouse to help local job seekers, including our clients," said Shannon Harvey, chief executive officer of River Edge. "Despite the slowly recovering economy, many of our neighbors are still looking for work. The National Suit Drive is making it easier for the local community to give help those in need and searching for jobs."
Though the national unemployment rate has begun to decline, 11.8 million Americans are still out of work, according to the U.S. Bureau of Labor Statistics. The unemployment rate for Central Georgia is 9 percent, which is above both the state and national rates according to most recent monthly statistics from the Georgia Department of Labor.
The National Suit Drive aims to battle unemployment by providing professional business attire to those in need to help them regain confidence and employment. In addition, partnering nonprofit organizations like River Edge prepare the job seekers to re-enter the job market through vocational rehabilitation or supported employment services, interview preparation and employment training programs.
Nationally, Men's Wearhouse hopes to collect more than 150,000 articles of professional clothing to benefit these individuals. To help raise awareness for the National Suit Drive, visit the Men's Wearhouse Facebook page to share images and videos and to track donations with a live donations counter. Follow the conversation on Twitter @MensWearhouse for real-time updates with #giveasuit. For every National Suit Drive mention on Facebook and Twitter, Men's Wearhouse will contribute $1 (up to $20,000) to the cause.
As a thank-you, donors will receive a coupon for 50 percent off the regular price of retail items (excluding shoes, clearance, and Everyday Low Price items) for their next Men's Wearhouse purchase, as well as a tax receipt.
For more information, visit River-Edge.org and NationalSuitDrive.com.
About River Edge
As one of the leading behavioral health providers in Georgia, River Edge Behavioral Health Center has provided comprehensive mental health, addictive disease, and developmental disabilities services for the past 63 years to the counties of Central Georgia. Through its multiple locations, River Edge annually provides services to more than 15,000 child, adolescent and adult residents of Bibb, Baldwin, Jones, Monroe, Putnam, Twiggs, Wilkinson and surrounding counties. River Edge has special expertise serving people who have intensive support needs. Our mission is to be the leader in behavioral health care providing comprehensive services with dedication and pride. Here at River Edge, we strive to empower children, youth, families and adults, by encouraging recovery and strengthening resilience. We accept Medicaid, Medicare, most private insurance and offer a sliding scale fee for individuals without insurance. River-Edge.org
About Men's Wearhouse
Founded in 1973, Men's Wearhouse is one of North America's largest specialty retailers of men's apparel, with 1,144 stores. The Men's Wearhouse, Moores, and K&G stores carry a full selection of men's designer, brand name, and private label suits, sport coats, furnishings, and accessories, and Men's Wearhouse and Tux stores carry a limited selection. Most K&G stores carry a full selection of women's apparel. Tuxedo rentals are available in the Men's Wearhouse, Moores, and Men's Wearhouse and Tux stores. Additionally, Men's Wearhouse operates a global corporate apparel and workwear group consisting of Twin Hill in the United States and Dimensions, Alexandra, and Yaffy in the United Kingdom. For additional information on Men's Wearhouse, please visit the company's websites at www.menswearhouse.com, www.kgstores.com, www.mooresclothing.com, www.twinhill.com, www.dimensions.co.uk, and www.alexandra.co.uk.