News & Press
River Edge Appoints Vanderhoek as Director of Community Relations
MACON – Shannon Harvey, chief executive officer of River Edge Behavioral Health Center, has announced the appointment of Mark Vanderhoek as director of community relations for River Edge and The River Edge Foundation, effective June 3. In the newly created position, Vanderhoek will lead River Edge's communications, government relations, fund raising and social entrepreneurship efforts.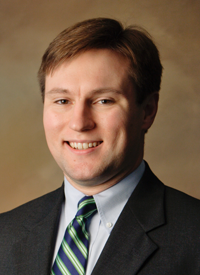 "We're delighted to have Mark as a part of our River Edge family," Harvey said. "We're a growing, dynamic organization dedicated to making life better for the communities we serve, and we need to tell that story. Mark's experience and passion are a perfect fit for his new role as the lead storyteller for River Edge."
Prior to joining River Edge, Vanderhoek worked for eight years at Mercer University, where he has most recently served as the director of media relations, leading the University's public relations efforts. He also served as editor for the University's two monthly electronic publications, News@Mercer and News@Mercer Alumni Edition, and held a significant role in the university's successful social media programs. Prior to his work at Mercer, Vanderhoek was a newspaper journalist in Virginia and for The Macon Telegraph.
"I am ecstatic to be a part of the River Edge team," Vanderhoek said. "It is a great organization doing great work in central Georgia, and I am excited to help tell its story. I look forward to helping build a strong future for this community cornerstone."
In addition to his work at Mercer, in 2008 Vanderhoek founded Macon Roots, a nonprofit that works to build a local and sustainable food system for Macon and Middle Georgia. The group was instrumental in building the Beall's Hill Community Garden at Centenary and helped to launch the Mulberry Street Market in downtown Macon, one of the state's must successful farmer's markets.
Mark earned his Bachelor of Science in economics with a minor in communications from Florida Southern College and his Master of Business Administration from Mercer University. He and his wife Jill reside in Macon with their two young daughters, Dulcie and Cordelia, and an old dog, Rubin.
About River Edge
As one of the leading behavioral health providers in Georgia, River Edge Behavioral Health Center has provided comprehensive mental health, addictive disease, and developmental disabilities services for the past 63 years to the counties of Central Georgia. Through its multiple locations, River Edge annually provides services to more than 11,000 child, adolescent and adult residents of Bibb, Baldwin, Jones, Monroe, Putnam, Twiggs, Wilkinson and surrounding counties. River Edge has special expertise serving people who have intensive support needs. Our mission is to be the leader in behavioral health care providing comprehensive services with dedication and pride. Here at River Edge, we strive to empower children, youth, families and adults, by encouraging recovery and strengthening resiliency. We accept Medicaid, Medicare, most private insurance and offer a sliding scale fee for individuals without insurance. River-Edge.org.