News & Press
River Edge Revitalizes Homes in Fort Hill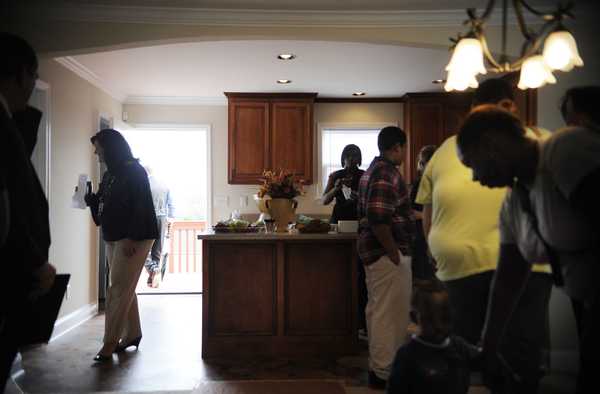 River Edge revitalizes homes in Fort Hill
Jaelyn Weekley, 13, spent much of the past year sleeping on floors as he shared a single room with his mother and 9-year-old brother. Last Friday, they moved into a revitalized home in Fort Hill, a Macon neighborhood that's getting a big revitalization push.
"I have privacy," he said. "I don't have to share a room."
The Weekley family is one of 10 moving into rehabbed single-family homes in Fort Hill. A ceremony Wednesday honored a partnership among the Macon government, which began the work; the U.S. Department of Housing and Urban Development, which financed that work; and River Edge Behavioral Health Center, which took over the homes and completed some that had been extensively vandalized.
Tracey Weekley said she'd lost everything after being laid off a year ago from a medical assistant job. In Fort Hill, she's found a three-bedroom, two-bath house. She's found a safe place to call home. She said she's found a neighborhood that's getting better with the new housing, better than most anyone gives it credit for.
"A lot of people talk about this neighborhood," she said. "People need to give Fort Hill a chance and ignore all the negatives."
River Edge's 10 rebuilt homes aren't far from its First Neighborhood project, which brought 18 new housing units of new construction. Groundbreaking for another 10 homes for the Second Neighborhood project could start in a few months, and a dozen more homes are planned for the Third Neighborhood. In all, River Edge plans 50 new or improved housing units for Fort Hill, which is close to public transportation and its offices.
"This is something we can all be proud of," Macon Councilwoman Elaine Lucas said.
Councilman Rick Hutto, who also represents the Fort Hill area, said the work doesn't just help the Weekley family.
"It helps the neighborhood," he said. "It's no good living next to a boarded-up house."
Data from the 2010 census shows that Fort Hill has some of the worst housing vacancy rates in Middle Georgia. Abandoned cars, damaged roofs and overgrown lots are common.
The home featured Wednesday faces Fort Hawkins, considered the birthplace of Macon. The home's master bedroom features a balcony that looks out on the fort. Photos at Wednesday's ceremony showed where wiring and appliances had been ripped from smashed walls months earlier.
Cynthia Patterson, director of supportive housing for River Edge, said the typical resident of the 10 rebuilt homes is a single mother, coming from a homeless shelter, and is recovering from mental illness, drug addiction or both. The Fort Hill homes will be permanent housing for residents, who will pay about 30 percent of any income they might receive. River Edge, just down Emery Highway from the homes, will be there for any help.
And where some see the beginnings of a rebirth for Fort Hill, others see a rebirth for their families.
Tomekia Ross stopped by Wednesday's ceremony with her son. She moved into another River Edge house in Fort Hill about a month ago. It has appliances, a fenced-in yard for her two children and a sense of permanence. Asked how she liked her home, she spoke for a few moments. But her first two words said the most.
To contact writer Mike Stucka, call 744-4251.